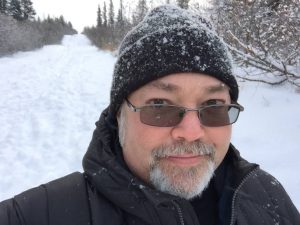 Professional
I hold a PhD in clinical/multicultural and community psychology from the APA-Accredited California School of Professional Psychology (1997), and am licensed as a psychologist by the State of Alaska (with inactive license status in California and Hawaii).  I received my clinical training at the Native American Health Center and the APA-Accredited National Asian American Psychology Training Center (RAMS), and completed a post-doctoral fellowship in the Department of Addiction Medicine at Kaiser Permanente.
I received my MS in Chinese medicine from American College of Traditional Chinese Medicine in 2007, and am licensed as an acupuncturist by the State of Alaska as well as California and Hawaii. I also hold national diplomate status in East Asian medicine, and received advanced training and certification in tui na manual therapy.
In addition, I am certified as a Master Addiction Counselor (MAC) by the National Certification Commission for Addiction Professionals (NAADAC), and trained in mindfulness-based interventions with UCSD Center for Mindfulness.
I have served as a clinician and consultant in numerous psychiatric, primary care, and addiction treatment programs, as Behavioral Health Director for Tri-City Health Center (where I developed a cutting-edge mindfulness-based integrated health psychology program in a primary care setting) and Assistant Clinical Director for the Community Institute for Psychotherapy, and on the faculty of UCSF School of Medicine, the California School of Professional Psychology, and The Psychotherapy Institute.
My undergraduate degree from Sarah Lawrence College was in film and music, and I remain a devoted cinephile.  My articles and essays on film, psychology, race, and other subjects have appeared in a variety of publications, and my book, The Trusting Heart: Addiction, Recovery, and Intergenerational Trauma was published by Chiron in 2012.
I have had the great good fortune to train under Dr. Eduardo Duran and to apprentice with Dr. Joseph Ng, both of whom I consider important mentors; I remain deeply indebted to them, as I continue to be influenced by their work and their guidance.
Personal
I was born in New York City, but grew up primarily in rural Hawaii, in the town of Waimea on Moku o Keawe (the Big Island). I lived in New York and New England for a number of years, and in the Bay Area for over twenty years. Now a devoted Alaskan, I continue to be deeply moved by the culture, community, lifestyle, and physical surroundings of my home, and enjoy taking time away from the office for fishing, hunting, foraging, and exploration of all kinds.
By descent, tribe, and ancestry, I am a Jew of mixed Ashkenazi and Sepharadi background; my exploration of my own heritage, culture, spiritual tradition, and family lineage continues to inform my life and my work.
I was raised in an alcoholic family, in what I consider to be the residual effects of intergenerational trauma–of which I write in my book.  My own substance use began quite early, and progressed until my early twenties when, in 1988, I entered treatment for heroin addiction at The Phoenix House Foundation; my experience there was profoundly transformative, and I remain deeply grateful.
Subsequently, my life and focus shifted dramatically, and my life-long commitment to spiritual, psychological, and bodily transformation emerged. Over the years, this path has taken me through an array of spiritual practices, healing processes, and embodied and energetic disciplines, including Kabbalah, Advaita Vedanta, Jungian analysis, and others. Perhaps foremost among these has been the practice of taijiquan (t'ai chi ch'uan), qigong, and meditation in the Daoist and Buddhist tradition, chiefly under the auspices of Dr. Benjamin R. Tong, to whom I owe a debt beyond my ability to express.
Some of the other teachers in the worlds of spirit, psyche, and body to whom I am most grateful are: Liu Ming, Dr. Randy Sugawara, Dr. Steven Joseph, Dr. Nan Fink Geffen, Rabbi Avram Davis, Eve Soldinger, Sat Chuen Hon, Diane Montoya, and Sifu Jeffrey Yuen.
As a practitioner of Chinese medicine, as a psychologist, and in my personal life, I am deeply committed to the path of the heart; I feel privileged to be a part of people's process of healing, which I consider to be a sacred task, and am grateful to my teachers, to my ancestors, to my family–especially my wife and son–and to all those who have helped me on my own path of healing and recovery.