The Trusting Heart: Addiction, Recovery, & Intergenerational Trauma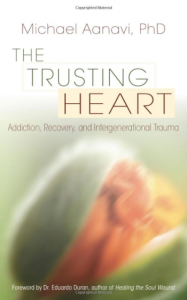 "Aanavi's story takes us into the belly of the beast in an exploration of the soul's wounding and stands eye-to-eye with the demons in an honest attempt to make a different relationship with these entities. Dr. Aanavi hones in on the entity of heroin, which is the one spirit visitor that has given him the gift of insight during this lifetime."
–From the foreword by Dr. Eduardo Duran, author of Healing the Soul Wound and Native American Postcolonial Psychology
Carl Jung spoke of pistis, the trusting heart. He said that this fundamental capacity for trust is the precursor to faith, and that without this essential quality, faith in something greater, faith in one's own process, faith in the wholeness of the psyche is impossible. For the author of this book, pistis involves the ability to trust one's own subjectivity, one's felt sense, regardless of whether it jibes with what is externally acceptable or valid, regardless of the outcome.
In The Trusting Heart, Dr. Aanavi writes about his experience over the past twenty-plus years, both as a person in recovery and as a clinician. The book is about his exploration, his process, and his commitment to both the profoundly personal and the remarkably vast. It is about telling the stories of one's experience and committing to the integrity of one's felt truth, and to following one's energetic thread wherever it might lead.
The Trusting Heart is available in trade paperback and ebook formats from Chiron Publications.
Praise for the book
Stanley Krippner, PhD
Professor of Psychology, Saybrook Institute
Co-author, Personal Mythology and Haunted by Combat
There is a plethora of first-person accounts describing substance addiction but The Trusting Heart is one-of-a-kind because Michael Aanavi takes his reader on an unforgettable journey into his own psyche as well as his ethnic and familial milieu. This book has a range that is both broad and deep, both philosophical and intimate, encompassing ancestral trauma, Jewish cuisine, teenage drug dealing, somatic experiencing, and mindfulness meditation. It is a coming of age story that brilliantly evokes how the author succumbed to the opiate embrace but eventually awakened to recovery.
Lorie Eve Dechar, MAc
Author – Five Spirits: Alchemical Acupuncture for Psychological and Spiritual Healing
The Trusting Heart is a courageous and uncompromising book that brings together the author's story of recovery from addiction and intergenerational trauma and his clinical expertise as a psychotherapist and acupuncturist. Integrating the wisdom of Taoism, archetypal psychology and his own embodied experiences, Aanavi reframes the recovery process from a life-long letting go of destructive habits to a radical opportunity for spiritual transformation. This is a must read for anyone working personally or professionally with addiction who is ready to go beyond the limitations of current therapeutic models and is not afraid to face addiction's underlying longing: the reclaiming of authentic nature and a vital, meaningful encounter with the Self.
Steve Balt, MD, MS
Editor-in-Chief, The Carlat Psychiatry Report
The Trusting Heart is part family drama, part recovery odyssey, part character sketch, and part addiction text. Most of all, it encourages the reader to seek inside, to be mindful not only of one's own perceptions and sensibilities, but also of the events and experiences that have been handed down from prior generations. Aanavi describes in beautiful prose the everlasting energy of trauma, how it passes from generation to generation, and the ways in which this intergenerational injury arises in self-destructive acts and tendencies. He encourages the reader to trust that which so many of us have grown to distrust—namely, our selves, our bodies, our hearts—and in the process, to reconnect directly with the accumulated effects of trauma, even when this requires facing one's ghosts. Aanavi's tale—his personal suffering, his disconnection from himself through heroin, and his own ultimate identification with his ancestral wounds—has much to offer those of us who suffer in addiction, grief and loss, emotional turmoil, and personal trauma, and who seek to reconnect with the meaning within. Indeed, it is a guidebook for those who bear the burdens of those who came before, which, in a very real sense, is each of us.
Steven Hickman, PsyD
Director, UCSD Center for Mindfulness
The Trusting Heart is a richly-textured and multi-layered exploration of the intimate personal healing journey of the author. Michael Aanavi finds a way to connect the acutely intra-personal nightmare of trauma and addiction to the universal embrace of the transpersonal and the legacy of the multi-generational, encompassing a fascinating blend of traditional Chinese medicine, Jung, pop culture and philosophy from all corners of the planet in between. Life is never neatly tucked into a singular model or a tidy theory, and Aanavi has managed to acknowledge that while keeping the story, his story, engaging, intriguing and reverential to the awesome power of human healing and trans-traumatic growth. This is truly a gift to all who suffer, that is to each of us in our own way.
Steven Joseph, MD
Physician, psychiatrist and Jungian analyst
Member and training analyst, C.G. Jung Institute of San Francisco
With this book, Dr. Michael Aanavi has made a major original contribution to the voluminous literature on addiction and recovery. Aanavi integrates anecdote and theory, the personal, cultural, ancestral and archetypal in an illuminating and healing way. He writes movingly of the roots of deprivation, personal and ancestral trauma, loss of personal story and internalized self-hatred and self-attack, that all inform addiction. He writes of addiction as "medicine" for unbearable inner pain, and of healing through finding true "medicine" in his own inner world, in the processes of shifting and transforming "deeply embedded, consciously inaccessible [psychosomatic] narratives of illness." Aanavi describes recovery from addiction as ongoing practice, as being on a path, not as arriving at a predetermined goal. He works with his own psychosomatic life energy, his qi (as described in Chinese medicine) or hiyyut (so named in the Kabbalah), as his way of living from his deepest sense of self — and his way of practicing a life not ruled by addiction. His method of treatment, as presented in his writing, is fundamentally to "be" from his own self experience and self knowledge, and thus to illuminate for other sufferers the hope and trust that they too can find their own individual pathways. I recommend this book very highly.
Benjamin R. Tong, PhD
Professor of Clinical Psychology, California Institute of Integral Studies
Against the backdrop of a relentless appraisal of the underpinnings of addiction and trauma, Dr. Aanavi narrates a subtle personal memoir that thrusts dead to center at the reader, offering compelling insights into the process of recovery.
Ilene S. Serlin, Ph.D, BC-DMT
Editor, Whole Person Healthcare
Like a skillful musician riffing on soulful rhythms, Michael Aanavi gives us the raw experience of intergenerational psyche. Avoiding psychological jargon or reductionistic medical language, Aanavi gets inside the embodied experience of trauma and disconnection. Aanavi, drawing on his own experience, shows us how a combination of Jungian and existential psychology, Chinese medicine, and energetic practices from the Daoist tradition can "shift deeply embedded, consciously inaccessible narratives of illness."